Packaging engineers from Ford, Apple, Lumi, Pfizer and Kalamazoo Gourmet benefited from a new vision of their own packaging efforts through the lens of 45 fifth-year distance students at Highcrest College in Wilmette, Ill. In December, brand representatives challenged students to find ways to package their respective products, and were rewarded with a presentation of the results in May. Diagram of an iPhone starter kit, designed by college students and presented to an Apple packaging professional.
The virtual student presentation capped months of materials research, consumer understanding, idea generation and prototype manufacturing. In conjunction with the Michigan State University School of Packaging, the engineers also gave a presentation on packaging as a career choice. They then challenged the students with a unique packaging problem to solve with one or more of their products. A variety of items including glass flasks, disposable masks, grilling accessories, candles, and even an iPhone welcome pack were offered, and the students chose the challenge they were most excited about.
"In our unique year of online learning, this was the perfect project for building teams and solving problems," says Matt Aho, math and science professor at Highcrest. "Not only does this activity align with our science standards, but it touches on all the 21st century skills we want students to have, especially critical thinking, creativity, information literacy and flexibility. Aho, a packaging graduate, had previously worked with MSU and engineers at KraftHeinz to have students redesign the packaging of some of their existing products. "This project was a real highlight of my teaching career, so I knew we had to try something like this again."
Ford Motor Company's Kurt Jaworski said, "From the start the class was very curious and asked detailed questions about the product and the project during our Zoom calls in December," he says. "They showed a real interest in packaging, creating viable solutions, and being aware of the potential environmental impact.
The engineers were also impressed with the creativity of the students and their ability to present their ideas in multiple formats. "The students were really innovative, demonstrating their ideas through multiple forms of media including presentations, prototypes and videos," says Lisa Rodriguez, vice president of sales at Kalamazoo Outdoor Gourmet. "The students showed their understanding of the Kalamazoo brand, the challenges of current packaging, packaging solutions and marketing considerations. How refreshing to be able to come up with packaging ideas without being hampered by cost, manufacturing limitations and / or history. "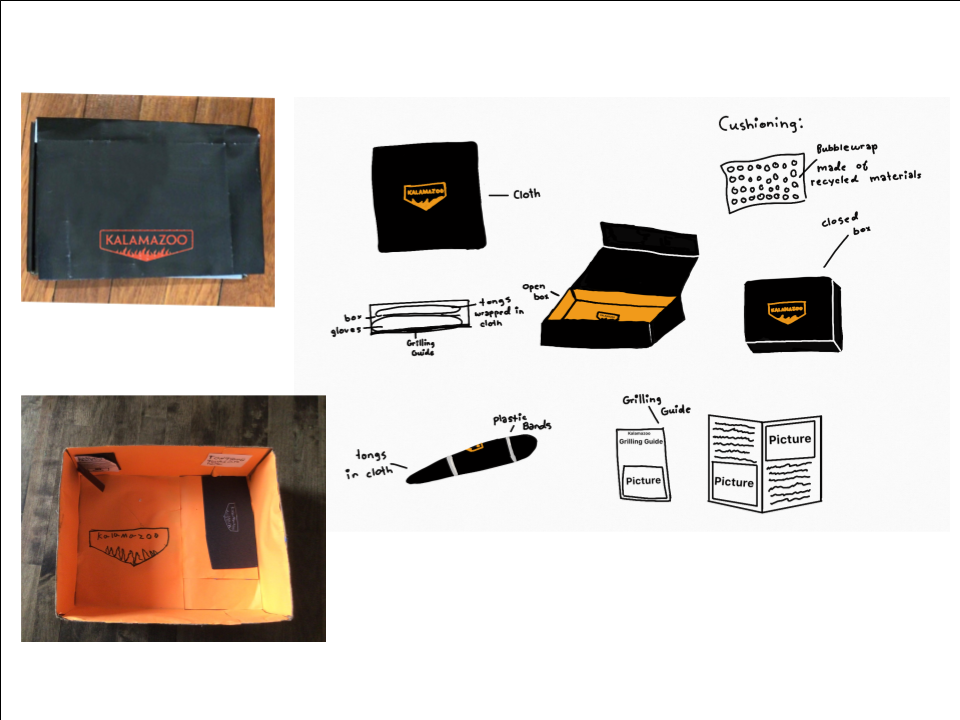 New packaging design plans for Kalamazoo Gourmet, designed by students at Highcrest Middle School.
Jacob Kowalski, Packaging Program Manager at ButcherBox, adds Jacob Kowalski: "The project took me back to the days of college, where solutions were all about convenience and fun, without a lot of external constraints. The fifth year approach really stood out with practical, but fanciful solutions. "
The students appreciated that the engineers were willing to volunteer their time to present such a unique learning experience. "We have to work and do something that really affects the world. We have to create things that no one else has done before, and that's something more schools should be teaching," says Nate Butkus, a fifth grade student.
The projects may have even aroused the passion of future packaging engineers. "The project was really unlike anything I had done before, it featured a combination of engineering, artistry, design and brains that I never really got the chance to experience on others. projects. I think I could see racing as a career, "says student Lexy Geraci. "There are so many opportunities and so many different products you can work on. The possibilities are limitless. -PW